Caliper Pistons And Accessories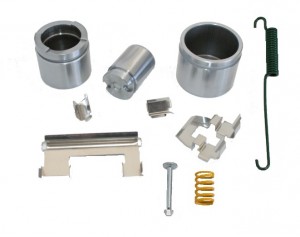 Caliper pistons in a brake system squeeze the brake pads against the rotors to slow or stop a vehicle. With time these can wear out, get damaged, or if you are close to the coast, completely rust away. When this happens, it can lead to poor braking performance, or in a worst case scenario, completely ineffective brakes.
LMB Brake And Clutch Components currently produces various caliper pistons for passenger vehicles and commercial heavy duty applications in hard chrome plated steel for O.E. replacement.
Caliper springs and hardware kits are stainless spring steel or galvanized steel respectively.
Combine these with our LMB Euroseals Caliper Repair Kits and you will be good to go and more importantly, stop.
Please inquire with us if you are looking for a specific application.
All of our parts carry a guarantee against manufacturing defects and carry a general warranty for your peace of mind.